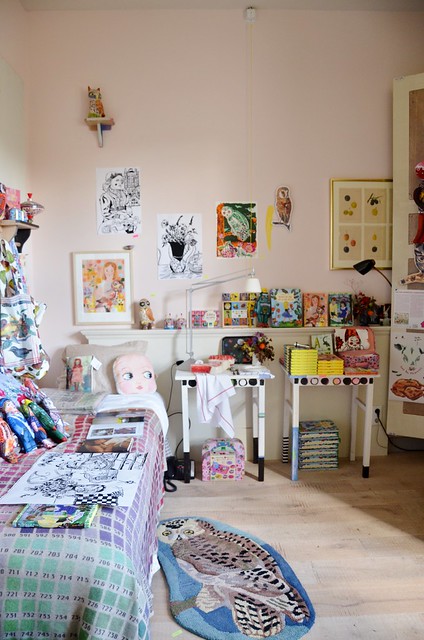 When you are a fan of Nathalie Lété, you need to visit Gallery HERFST at
Villa Augustus
.
Gallery HERFST [AUTUMN] is a new initiative of Villa Augustus. Hotelroom 24, located at the garden of the hotel is occasionally transformed into a temporary gallery.
Nathalie Lété's work is currently exhibited in Gallery HERSFT.
The gallery is open from Thursday to Sunday from 13:00 - 17:00 PM.
The exhibition will last until the end of the year and in the market shop we sell a wide selection of her work throughout the week. Come and see!
Nathalie stayed at Villa Augustus for some days and has been signing piles and piles of her newest books in the market shop. She also made some beautiful drawings during her stay.
Yesterday I was at work in the market and asked Nathalie if she would sign her 'Farmer's bag' for me, instead of a book.
Sweet as she is, she signed the pears & birds bag and also made a few more drawings on the bag.
Je suis heureuse comme une poire!